SUNBURN Festival Pune 2018
Oxford Golf Course Resort, Pune
This  3-day affair is all set to be held at Oxford Golf Resort, Pune starting onwards 29-30-31 December 2018. Adding to the line-up, they are bringing a new concept this year called "#GirlPower" which includes a Separate Entry Lane, Exclusive All Girls Bar, Separate Section For Restrooms, Separate First Aid Rooms, Women's Safety Squad and many more things just for the safety of women ravers.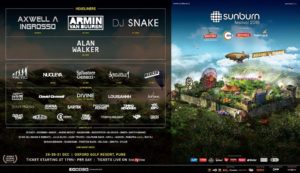 This year things are going to get bigger as they have locked down the French maestro DJ SNAKE & his mate MERCER for the Sunburn's annual music festival in Pune. DJ SNAKE will be closing the Sunburn Festival main stage by delivering a very special NYE Set, folks your New Year's Eve party scenes have been sorted! Previously, Sunburn Festival had brought down DJ SNAKE for a multi-city tour, Road To Sunburn editions & its annual iteration as well. Other support acts include DIVINE (Gully Gang) David Gravell, Ellie Prohan, KaRavan, Teri Miko, Zephyrtone, Siana Catherine and domestic acts like Progressive Brothers, Omen, Julia Bliss, Madoc and Sartek.
Campout packages start INR 2,500 per person per day and include complimentary breakfast. In addition, fans can expect a world class experience with the fan village, and F&B by 'Eat Play Love', 30+ experience zones, flea markets, chopper rides, after parties.