Life In Color Festival INDIA
Jawaharlal Nehru Stadium Grounds, New Delhi.
World's Largest Paint Party Life In Color is finally coming to India. After successful editions in US, UK, El Salvador, Bolivia, Paraguay, China, Thailand and many other countries, the party makes its way to India for its debut. Back in 2017, LIC celebrated its 10th Anniversary in Miami. Life In Color is known for its signature pyrotechnics, paint+confetti effects & stage production.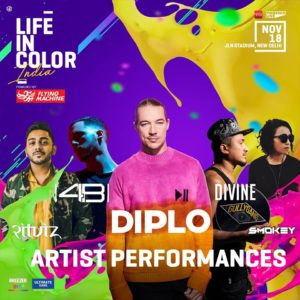 The festival will not be live murals and DIY paint stations where attendees can make their own works of art on the walls or on their friends. The colored smoke will bring new dimension to the venue,  making it an unique celebration of sound packed full of insane beats and a whole lot of paint. Supporting the headliners DIPLO, 4B will be our very own homegrown acts such as Ritviz, DIVINE, Smokey.
Life In Color will be making its Indian debut on November 18, 2018, at Jawaharlal Nehru Stadium Grounds in New Delhi.