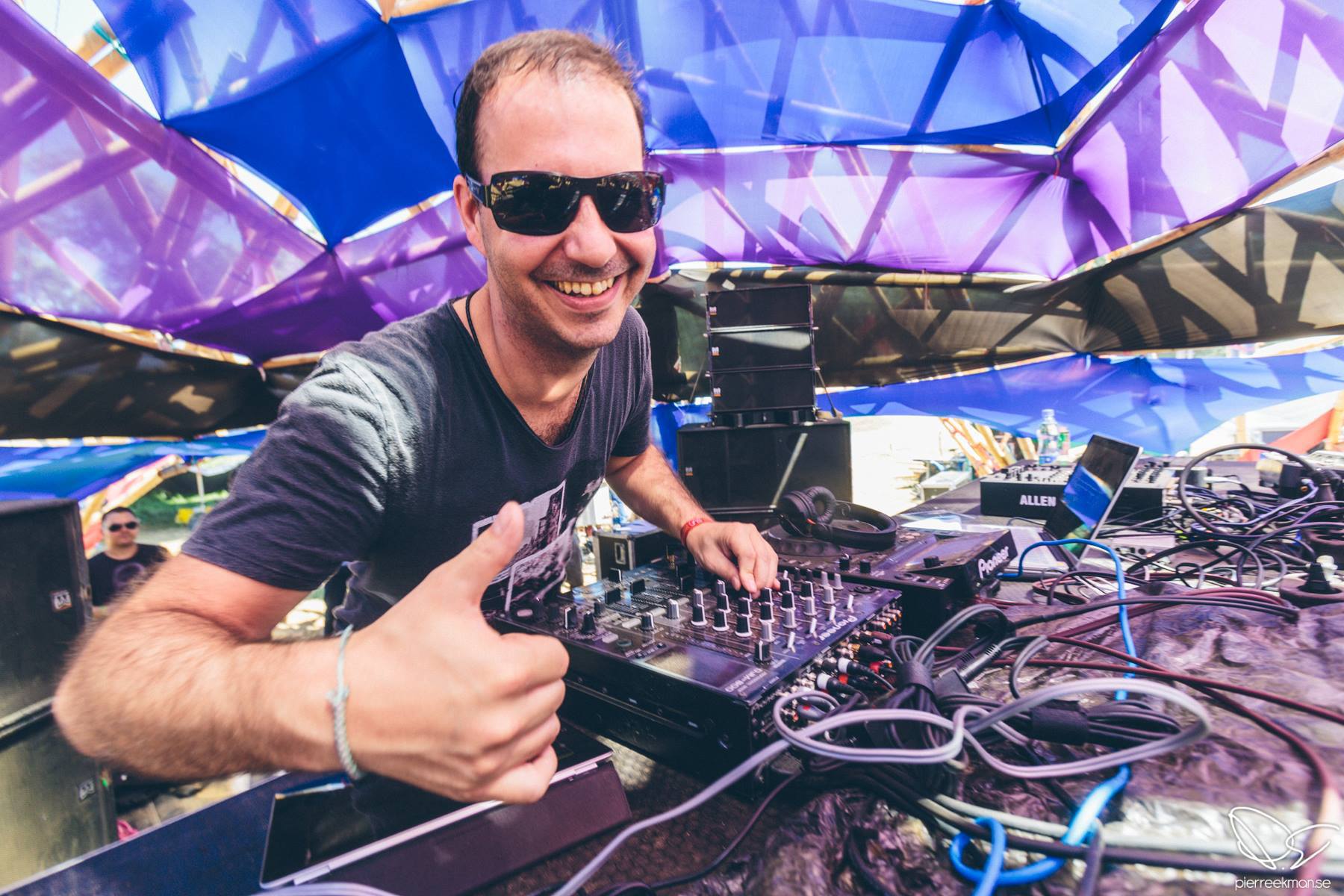 After bringing you a blaster of a first editions last April with headliners "Ace Ventura", "Doppler Shift" & more , "FUTURE SOUND" Music Festival  presented round two to kick up some serious dancefloor dust last friday. It was en epic opportunity and event to freak out on an array of choicest international and home-grown talent. Local talents such as Starlab, Doppler Shift, Braindrop, NISH played amazing sets alongside the Swiss headliner. Also there was a special set which was a Future Sound Special featuring BrainDrop vs Nitin.
Not to forget, Kingfisher proudly presented Future Sound Music & Arts Festival and its a venture and event organised and curated by the iconic Agartha Records and they were really successful in pulling up the top notch and creme crowd of Bangalore which was their aim.
Future Sound chose really an epic and iconic venue "VR Bengaluru" for their second edition, it was roof top Sky Deck, 22 degrees with cool breeze (perfect Bangalore weather) and Psy sounds in this environment was like a cherry on a pie. Setup was impressive with giant LED screen and perfect sound system organised by NEXO sound to blow everyone's head. Event ended at around 0100 hours IST, in India its very difficult to host and organise open air events post 12 O Clock, hats off to the organisers for this.
After the mindblowing and amazing set of "Liquid Soul", Team EDMLI had a chance to sit with him in person and know him more.
EDMLI : Nicola, great to meet you and see you in person, how has 2017 been going so far?
Liquid Soul : (Laughs) Well its good, pretty good actually or i must say busy, playing lot of parties and events, so its safe to say one of the most successful year i think, and yeah talking about what just happened was amazing.
Amazing rooftop venue you can actually see the whole of bangalore, f****** amazing sound system and giant LED screen and amazing crowd, what else you need, extraordinary place for sure (Laughs heavily) and to be honest you should do this more often, it was so much fun, i personally and really enjoyed it.
EDMLI : How did Nicola Capobianco become Liquid Soul?
Liquid Soul : Well, its a pretty long story, you want to hear the long story? Back in the days i used to listen to Euro Trance, "Armin van Buuren" & "Tiesto" stuff then a friend of mine took me to a event in Switzerland, that was my first Psychedelic party and i was pretty amazed to hear those sounds, i never heard those kind of sounds before, the moment i came back to home i tried producing those kind of sounds and the rest you know. Yes, Liquid Soul, this name was given to me by my same friend in the same party, we order some acid and it came as a Liquid (laughs).
EDMLI : "Synthetic Vibes", your debut album, how long it took to finish it and after almost 11 years, how are the reactions?
Liquid Soul : Well, i don't remember but yes it took quite a while for sure but at that time i was faster than today because i had much free mind than today to be honest. For me its a masterpiece like my first baby and i listen to it today as well because usually i don't listen to my tracks over and over again, so yes i carry it till today and play it sometimes because it takes me back to the days and i really enjoy it.
EDMLI : What do you think of the Psy Trance's popularity in the current dance music scenario?
Liquid Soul : I have mixed feelings to be honest, when you release your new track and if some people don't like, its like, Eeehhh  its commercial, so on one social media post if we have 99 positive comments but 1 negative, that hurts a lot and also if people say in comments like you are being commercial now, being an as*****, but my perception is, its okay to accept the fact being an as***** but at least tell me why i am an as***** so that we can improvise things now and then(Laughs), so its okay to criticise as no one is perfect.
EDMLI : 2015 saw one of the biggest remixes of Mr "Paul van Dyk", yes of course we are talking about City of Sound, tell us more about it, how it all began?
Liquid Soul : Well, Paul approached me, i got an email from his management asking if i am interested in doing this remix for him, so my first thought was Woahhh "Paul van Dyk" coz to be honest he is one of my heroes back in 90s and it was an honour but at the second thought i became hesitant of, what if people don't like this remix as he is a one big artist, and then after giving many thoughts i decided to it my way and i am happy with the result.
EDMLI : You have toured India before, what are your views on growing Trance scene here?
Liquid Soul : Well, its growing for sure, like last time when i was here it was amazing too and for today as we spoke before, the vibe was amazing, and i think people really dig into music here, they let themselves free and not caring what they look like or more like, they just feel free and enjoy and for me, if people enjoy i enjoy too and it really kicks me gives a lot of energy, really amazing vibe about what just happened here and for this Future Sound festival, they did a fantastic job taking care of every single thing from production to sound, to LED to venue, really happy.
EDMLI : Can you tell us something that we are the first to know?
Liquid Soul : (Laughs heavily) well yes i can, there is a release coming in 5 weeks, i did a collab with "Farnatic", he is a really talented artist and i played today as well, so 5 weeks, and it will be released.
Agartha RecordsFUTURE SOUND Music FestivalLIQUID SOULVR Bengaluru
Chetan Dahake