German Trance legends or should we say "Royalty", "Ralph Kyau" & "Steven Moebius Albert" better known as "Kyau & Albert" were on 2 city India tour couple of weeks ago, and most of you already know they are into Trance scene for more than 20 years and last year they celebrated their 20 years.
They were here as part of their "Matching Stories" tour by "Deep In Dance 360" and what an impeccable event it was in both the cities with from epic venues, "Kitty Su" in Mumbai & "Kitty Ko" in Bangalore.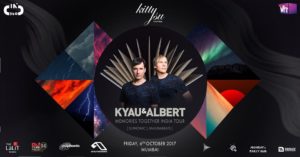 During their Bangalore performance, they played epic and iconic 4 hour classics set and we were completely blazed away by the energy and vibe.
After their Bangalore gig, team EDMLI got a chance to speak to these legends and to know in person.
EDMLI – Its almost more than 4-5 years since your last India tour, what took you so long?
Ralph – Its not really in our hands as we don't plan our shows, it depends on the request and completely on promoters, but i know that we have a lot of Indian fans who are waiting for us, I also heard a few in Delhi were bit disappointed but may be next time, both shows that we did here yesterday and day before were really really good so i hope it doesn't take so long to come back so may be next year or 2 years.
EDMLI – Your album "Matching Stories" has track "Mein Herz" which has German vocals, tell us more about it how it came across?
Ralph – Steven is singing all the tracks and we were talking about this almost year ago that why are we not doing track in German, so for this album we always had the ideas and we decided on doing one track in vocals in German, so our idea was, mixed German English, the track "Mein Herz", but we also had another track called "Spüren", which means something similar to touch and feel and peace of mind, but we didn't knew how people will react about them, so when we sent out our first promos to Australia, US, UK, they said wow, what is this german track, we love it, i don't understand it but its so cool to hear Steven singing in German and also we got very good response from our German fans in Europe and "reiss mir mein Herz" means something like "Rip Off My Heart" or "Take My Heart Out" so if someone who went to German school could pretty easy understand the lyrics. Even when we were in studio with "Armin van Buuren" during "A State of Trance" broadcast, he deeply appreciated.
EDMLI – Yeah we know, we saw that during ASOT broadcast he said "You should release it as single".
EDMLI – 20 Years is an epic journey, in fact its more than 20, how has been the journey so far for you and what has been changed since then?
Ralph – We haven't planned to have such a long term thing, originally we just started with Kyau & Albert project for big local festivals, then 4 tracks we had in 1996, Steven was still in school, i already left school and had few releases, so we did this then over the years we still do music, We are a good influential team and often brainstorm each other, that's how a good team works. We do explain to each other the ideas and all that stuff and thats the advantage of not making music alone, so yeah we do have that bond intact, so a very productive team specially on tracks .
EDMLI – German beer is known as the best beer in the world and we also heard you love brewing, how about opening your own beer brand?
Ralph – Honestly i really like drinking beer and making too but we don't have time, our schedule is already full, we always have things which are not done, so yeah its fun, but not yet, may be when we are old and don't travel anymore, but at the moment we are so happy about what is going on.
EDMLI – How did Euphonic originally started and where did this name came from ?
Ralph – Steven had the idea and the name, we wanted to do our own label, then it started, then "Sonorous", one of the first co-producer artist of "Ronski Speed" in the first years, he is a graphic designer as well, so he designed the "Euphonic" logo and he also did the logo of our new deep sub label "Euphonic Visions", he is still around and releasing some stuff on this new label, thats how it goes, we are still happy with the name "Euphonic".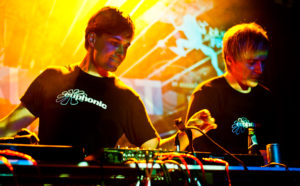 EDMLI – In almost all your tracks, "Steven" provides vocals, why "Ralph" never tried or can we see "Ralph" singing along with Steven in nearby future?
Ralph – If you have seen our old videos, i was in that, we had talks about this and "Steven" also asks every single time, don't you wanna try, sing a little bit on a album? but to be honest i am not interested and "Steven" has very good vocals and very unique, so he is the singer and i am more than happy with this.
EDMLI – In your entire career, which track you think the most took your maximum time to finish it and why?
Ralph – (Thinks, then laughs) "Jump The Next Train", i think we worked for more than 6 weeks, and after we almost had a final version but after that also we did some modifications and then we realised yeah, this is the final one, so its safe to say, we don't release our tracks until it is tested and works fine in our studio with different kind of measures so yeah its a never ending process i should say.
EDMLI – Everybody is saying Trance is making a big big comeback, but we say "It Was Never Dead", what are your views?
Ralph – Trance has the best fans in the world, it never really left, of course it has the potential to become commercial but remember if it becomes commercial then every stupid person would say yeah I love Trance, its the best thing i ever heard, so yeah we are happy with how it is and how it has been progressing.
EDMLI – You guys tour a lot, and this lifestyle definitely comes with a price, how did you guys keep yourself fit and healthy?
Ralph – We are quite always concerned about our health, we don't drink too much, we eat healthy, we never took drugs, never ever, we were always clean and not even tried during when we were young. I still remember while doing one of our shows in South America and those guys were into everything, so they asked us Cocaine, and we said no, they said "WHAT"?? they didn't even understand and yeah we don't regret it 🙂 (laughs) and in India i really like that you have so many good vegetarian food, so yeah we stay fit and our diet plays a major role.
Anjuna van Buuren