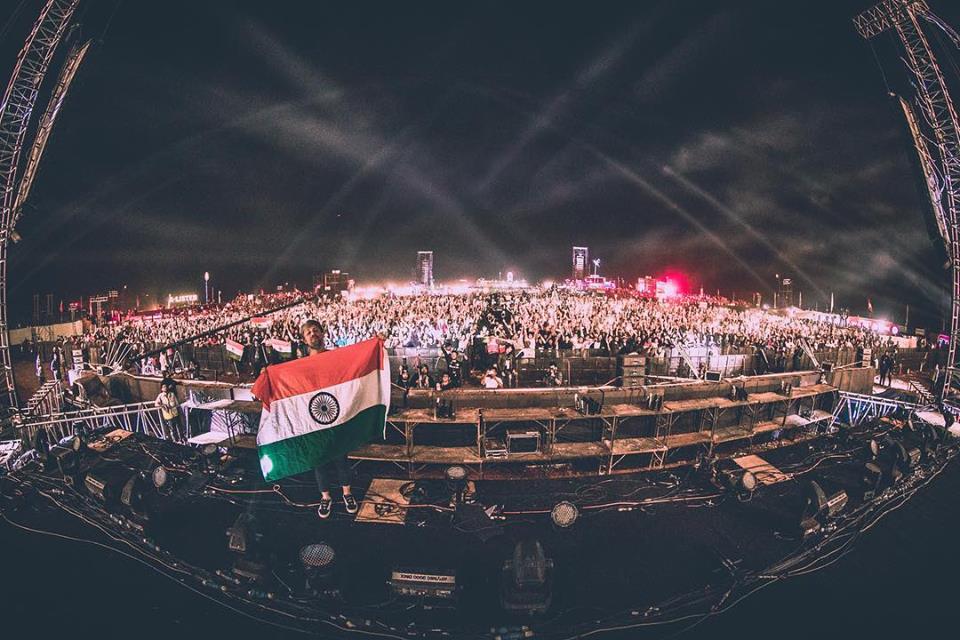 Kayzo made his debut in India at Sunburn Festival this year. He was definitely one of the best supporting acts on the lineup. His diverse set made sure that fans of all genres enjoyed it. We had the opportunity to have a sit down with him before his performance. Here's some excerpts from the interview:
Q) This will be your debut gig in India since your earlier tour got cancelled, what do you expect from the crowd?
A) I've been really looking forward to finally coming out to India. Looking at all the hype around social media surrounding Sunburn Festival, the reception I've got is pretty awesome. Seeing how the bass scene has grown here in India and all of Asia this year I'm really looking forward to this gig. Just want people to go crazy & have a good time.
Q) Did you get time to travel around?
A) Unfortunately not. I just came back from China, Taiwan, Thailand and then got home for a couple of days to see my family home for Christmas. After the gig I'm playing a festival in Canada, but hopefully the next time I get here I'll try and find time to travel.
Q) You released an EP named 'Welcome to the Doghouse' & your visuals and some artworks also have a dog in it, are you fond of dogs?
A) I am. I'm a big dog lover. It grew from people going like 'what's up dawg?'. I'm also fond of dogs & have dogs at home. I'm like a real dog advocate. So it just unintentionally grew from there. It's become a thing in my sets now. I really love how everyone has been to receiving of this.
Q) Your debut album 'Overload' is set to release. Could you brief us a little more on that?
A) Yeah it's set to release on my on label Welcome Records on January 19. It's going to comprise of 10 songs. There were 16 tracks initially, but I tried to narrow it down. It tells a story so I decided to keep the tracks that fir the story. There's a couple of collaborations there but I tried to keep it mostly to me. I'm really excited for it.
Q) Your sets & you music covers a lot of different sub genres. What would you like to term your music as?
A) That's a tough one. I don't really have a name for it because it has a lot of different styles & genres. For me I don't want people to witness my set as an EDM show or a rave, I love raves or EDM shows. But I want people to experience my show as something like a rock show. I want people to just experience something like a complete package. Lot of it is bass but I don't really have a name for it. It's a little bit of everything.
Q) We've seen you and DJ Snake calling out each other during your sets, what are your views about him?
A) DJ Snake has been one of my best friends for quite sometime now. He's also been really supportive of me. I try to talk to him a lot via texts or the internet. He's always willing to give advice & we also talk about life sometimes. It's really good to have someone like him in my corner. We feed of each other, he's got great energy & I look upto him.
Q) Any new tracks you're going to play tonight?
A) Yeah I'm going to play a couple of new remixes tonight & I'm gonna try & play my whole album tonight.
Q) Are there any collaborations you wish to work on in 2018?
A) Yeah definitely. There's a couple of collaborations I'm already working on but I cannot announce them yet. After my album I would like to work on a few collaborations since I have focused a lot on solo projects until now.
Q) There won't be a lot of headbanging like some of the other crowd you would be playing to, have you heard anything about the Indian crowd?
A) I haven't heard anything specific but I've heard the crowd is really energetic. It's fine if my crowd is headbanging or jumping, as long as the crowd is having a good time & the energy is good it's really fine.