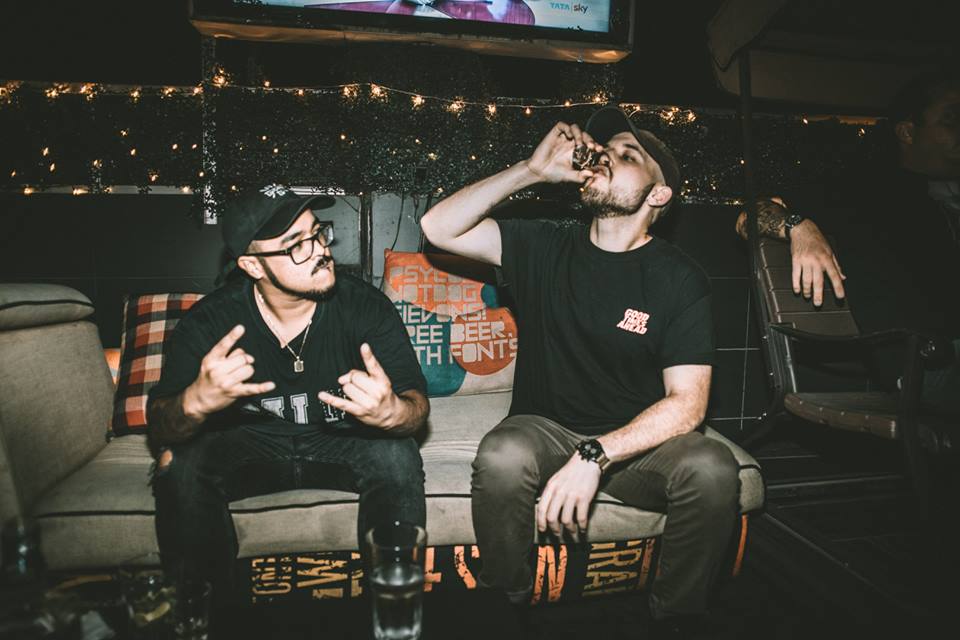 GTA the DJ/Producer duo consisting of Julio Mejia and Matt Toth made their way to India for the very first time in April. Sunburn brought the prominent act from LA for a massive two city stop across Bangalore & Indore. Sunburn never fails to bring some of the biggest dance music across the globe to India & last month they did the same as they brought GTA for Sunburn Reload in two cities. Since the inception of their project GTA in in 2010, the duo have been smashing stages across the world. Their music has no genre barriers & their sets are absolutely unpredictable which guarantee a wild party, which brought to India in April.
We got a very precious opportunity to talk with the music duo from Miami before their debut India tour!
1. You guys are finally making your way to India, what are you looking forward to the most?
– We?re definitely looking forward to seeing/meeting our fans out here and also very excited to try some authentic Indian food!
2. Your music is a culmination of different genres maybe moombahton, trap etc. So if you had to describe the signature GTA sound how would you describe it?
– Death To Genres! Hah we really just love energy! In any tempo we just love all kinds of genres and how they can make people move !
3. You've performed across a number of major dance music festivals across the globe. Which festival performance is the most memorable one?
– We recently played Ultra in our hometown of Miami, Florida. We actually brought our family out to see us play and it was definitely one of the most memorable festival experiences having them going crazy behind us while we played a set at a packed stage in our hometown!
4. We've been wondering for a long time that how did you guys team up and named the project as GTA. Can you give more details to it?
– We didn?t know what to call ourselves for a long time and we had always had GTA. Then after a lot of thinking we thought of Good Times Ahead which fits exactly what we want to bring with out sets and our music !
5. Well, if you had to do a B2B set, where would you do that and whom would you bring along to do the same?
-We always love playing sets with our friends like Wax Motif, Chris Lake, Valentino Khan, Diplo, etc. and we do it whenever we're in the same places !
6. Can you tell us how did your collaboration with Diplo called "Boy Oh Boy" took place, I mean is there any story behind it?
– Boy Oh Boy came about by us keeping in contact with Diplo while we were living in Miami! One of the first times we went to Los Angeles, we met up with him at his studios and pretty much knocked the whole song out in a day! Diplo came with an idea to remix a missy Elliot song, which we pretty much took and made into an original which is now !Boy Oh Boy?!
7. Which are the top three tunes on your playlist right now?
– Mike Will Made & trouble – Bring It Back (ft Drake), virtual self – Ghost voices, Avicii – Seek Bromance (RIP!)
8. What does the DJ/Producer duo, GTA do when they are not on tour?
– Matt's really into working out and going on hikes, I (Julio) like to make music and shop!
9. What do you think about the current dance music scenario?
– I think it's in a weird place right now. I think a lot of DJs have just kept making the same music over and over so it's become a bit stale. We all must work a bit harder on trying to create something new and unique which a lot of underground artists have already started to do.
10. What does GTA have in store for the year 2018?
– A lot of new music!! We've been working on new stuff all of last year and this year and we're really excited to release them! Also of course more touring 😉
11. What are your tips for the young and upcoming breed of EDM producers in India?
– One thing I see Most producers doing now is starting collectives / crews! I think one tip is to try and start one and make all kinds of music with some other producers ! Also staying original and not copying other producers/DJ's is super important!
12. Lastly, as you know there's a big GTA fanbase in India, what message would you guys like to convey?
– Thank you so much for all the support over the years and we're really excited to see your energy India!! Let's have a Good Time !!
Chetan Dahake