The long awaited collaboration between KSHMR & Mr.Black is finally out on KSHMR's imprint, Dharma Worldwide. 'Doonka' is surely a perfect banger to drop at main-stages everywhere around the world. It was premiered by KSHMR back in his Tomorrowland set in July, 2016. The crowd's response was absolutely thrilling for us to watch and experience from the live stream last year.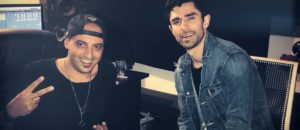 It is a blend of both of their unique signature styles. The lead is immensely powerful and that's what makes the drop so catchy with the little trap part in there. The psychedelic bass coming in makes the track more interesting with the ongoing vocal and pluck synths. The pre-drop vocal is really iconic which says, 'Put Your Hands Together'.
Mr.Black is talented DJ/Producer from the country of Israel who has various tracks released on Hardwell's imprint, Revealed Recordings. He has released some amazing tracks in the samplers of Revealed Recordings. He is known for his vibrant production style and high energy performances.
Overall a powerhouse of synths, basses, drums, Doonka is an exceptional track well produced by the two artists making it perfect for a Dharma Worldwide release.
Stream it here:
Purav Vyas