With a very short span of time, Daan Romers has achieved a number of milestones in his career. Dannic, the prodigious DJ and producer from Breda in the Netherlands – the hometown of Tiësto and Hardwell – is one of the fiercest acts to emerge from the latest generation of Dutch artists, cementing himself as a go-to name that delivers within the world of big-room, grooving house. Bursting onto the scene with a DJ Mag Top 100 DJs Poll placing 4 years in a row as of 2016, it's confirmed to tastemakers that Dannic is a driving force within the scene. Dannic's long-running stance behind the radio airwaves including his recently-rebranded Fonk Radio venture, also demonstrates a producer that is well and truly tapped into the most vital and important industry trends that appeal to his ever-expanding audience.
Back in 2009, the young prodigy came into the limelight with a number of stellar singles & remixes. Dannic has been consistently ranked in the DJ Mag Top 100 list & has became one of of the fiercest acts to emerge from the latest generation of Dutch artists. The Fonk imprint head honcho has became a driving force of the electronic music scene by releasing a number of stunning singles from young & upcoming DJ/Producers. Envision is all set to bring the Fonk head honcho for a massive multi city tour.
We got an opportunity to chat with the Dutch prodigy before he hits Indian shores!
Q1) This is going to be Sixth Time you perform in India, how excited are you for the upcoming tour?
Daan: I'm super excited! India is beautiful and so full of culture, I have performed a lot of club shows and at events, so to come back and do a four-date run across different cities will be cool! India always shows me so much love…
Q2)  You have been a part of the industry for almost a decade, how has the industry changed from then to now?
Daan: So much! Technology has helped DJs and Producers evolve so with the ways they make and share music, even on a basic level with easier access to the internet! It also seems obvious to say,but sounds come around again every so many years, darker sounds will peak, then house will come back in a big way but now – and especially since the boom of EDM – it seems there is much more room for fluidity of all of these different genres to exist in the same space together.
Q3) What advice would you like to give to all the young upcoming producers from India?
Daan: Believe in yourself!
Q4) Your label Fonk is almost 3 years old now, any producers we need to watch out for?
Daan: I always say this guy but Pessto! He's from Serbia and this super-talented young DJ coming through, but I'd also say the new music that We Am is bringing me has been absolute fire! Great things to come from those!
Q5) There have been talks of the possibility of a Dutch House mafia in the past. Have you three ever talked about the possibility of a collaboration or performing live together?
Daan: That was a long time ago, haha! Those guys will always be my buddies but we each have our own aims, goals and projects we're focusing on right now.
Q6) What has been your best production work to date?
Daan: Oh wow, that is difficult! How can I decide my "best" myself?! I think at the moment I am veryproud of my new single coming out on Spinnin' no September 10th, 'Tenderlove', it's a groovy house track with a huge female vocal that gives it that real old school, classic feel!
Q7) Could we see you feature any Indian artist on your label anytime soon?
Daan: Of course, I love Indian cultures and music, so if anyone out there sends through demos', me and my team are all ears!
Q8) In your previous visits to India, what did you like about the country or the fans?
Daan: The vibrancy – everyone is so happy, energetic and ready to party!
Q9) What's up next for Dannic, any new projects/ID's we need to watch out for in your sets?
Daan: 'Tenderlove' is out on Monday and then I'll be off to Shanghai and focusing on ADE(Amsterdam Dance Event) where we will be hosting our own Fonk Recordings night; the past two years have been a complete sell-out with huge special guests so I'm always excited to play in the city!
Q10) Your fans say you are one of the nicest DJ's on the planet. How essential is it for a DJ to treat his fans as more like friends?
Daan: Haha, oh wow, really?! For me, I think it's important to not put on this fake front and that you are humble to everyone – I worked so hard for years working my way up and have also been lucky to count people I looked up to, as friends now. I think it is so important to appreciate the fans I have, whether that be replying to social media posts, sharing snapshots of my life with them, or signing merch and posing for pictures at gigs, my fans are the best in the world and deserve to be treated so.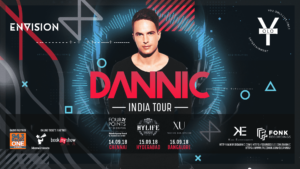 The artist and tour is managed by Envision and hosted and brought to you by YOLO Entertainment.