One of the most well-known and revered artists of the new Brazilian techno / techno-house scene Alex Stein has been making music for over 10 years and with releases on Suara, Senso, Great Stuff and Sincopat. The 'Bavarian-Brazilian' artist has made his own way thru vast musical studies (including Audio Engineering, studied at the SAE Institute in Frankfurt), and much trial & error he got to where he is now.
Some of the most smashing productions in his career include "Aurora" on Coyu's imprint Suara as well as "Zeit EP" on Oliver Huntemann's imprint, "El Dorado EP" via Los Angeles based Hydrozoa, "The Challenger & Escape" on the Ukrainian imprint Dear Deer (alongside K.A.L.I.L.) and "Tribute / Cruise Control" with Spuri) via Sincopat & a number of stunning releases on Bunny Tiger, Great Stuff Recordings, ​Herzblut, Tronic, etc.
1. You have been in the scene for more than a decade. How would you describe today's scenario?
Alex : I think we are living a great time in the Techno scene. Everyday there are more and more talented producers coming up and we have never had so much great music being released in a period of time. I think it is good and brings a certain 'freshness' to the scene and keeps things moving forward.
2. You grew up in Sao Paulo, who had an impact on your life as a artist?
Alex: Well I grew up between Frankfurt and São Paulo. My first years were lived in Germany and only then after we moved to Brazil. Growing up in such a big and populated city mike São Paulo is very interesting as there is always something to do and the nightlife is always boiling. I have made great friends and have had Amazing's gigs there, but when it comes to music, it was my time in Frankfurt that really changed my perspective and made me fall in love with Techno music.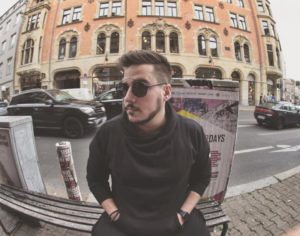 3. If Alex Stein had to do a B2B set who would be the DJ/Producer and what would be the venue?
Alex: For sure it would be with my buddy Victor Ruiz! I have a few names on my list of people I'd still like to share the booth and a set with, but me and Victor have done a few b2b sets and it was always a lot of fun! Venue would have to be La Fabrica in Cordoba, Argentina! I just love that crowd!
4. How would you describe the signature Alex Stein sound?
Alex: Well, it's hard to put your own work into words, but I guess my music is dancefloor-oriented Techno, straight to the point, but still with emotion and some melodies.
5. With a number of releases on the Senso Sounds imprint, how is it being a part of Oliver Huntemann's imprint?
Alex: Well I am a long-time fan of Oliver and his music so I was specially happy when I had my first release there. After releasing some more and even being asked to remix one of Oliver's tracks by himself I must say it is great being part of the crew and having their support! My next EP there will be out November 4th!
6. What are you looking forward to your performances in India?
Alex: I'm looking forward to meeting my fans and people who enjoy my music and work from India. Over the years I've received numerous messages of people asking me to come to India so I hope to meet as many of them as possible, and of course, have a good proper techno party!
7. Your message to the Indian techno community?
Alex: Thank you guys immensely for the support over the years, for all the messages and for being there. Hope to see you guys out there on the dancefloor and I really do hope you guys enjoy it as much as I will! 😀
Make sure you stay updated with Alex Stein's music & tours, follow him on socials here:
Facebook: https://www.facebook.com/stein.official
Instagram: https://www.instagram.com/alex_stein/
Twitter: https://twitter.com/steinmusic
Chetan Dahake