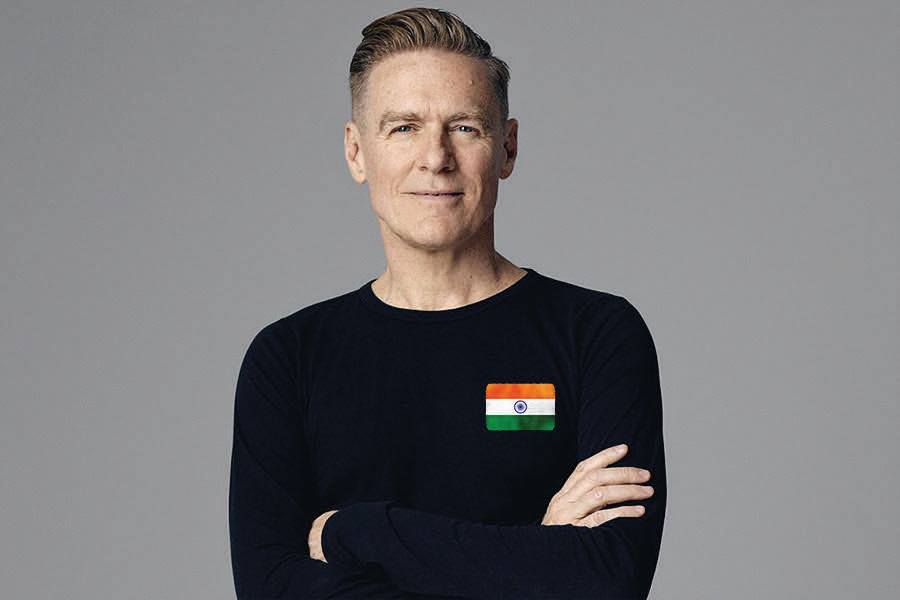 Legendary Canadian vocalist/songwriter, Bryan Adams will be doing a 5 city India tour next weekend. His previous performance was over 7 years ago. This tour is definitely one of the biggest events of the year in India. The Ultimate tour featuring Bryan Adams has been put together by ENIL. We had the opportunity to have a talk with the man himself before the tour.
Here are a few excerpts from the interview:
1) Your compilation album 'Ultimate', which is also the theme of your current worldwide tour comprises of most of your greatest hits and also includes two new tracks. Having most of your all-time hits together must feel like some journey right? 
Bryan: It was fun to put together, as its very much what I play live. There are of course many other songs I could have put on there, but there is only so much room on a CD.
2) You were supposed to tour India back in 2013 but unfortunately it got cancelled. You also mentioned back in 2015 that you wished to come back here. How excited are you to finally do this huge tour here? 
Bryan: We have a great show in store, our best work. We spent months preparing this tour, it's a long way from our first tour of India where the light switches were large levers beside the stage.
3) You have been making music for over 4 decades now. What is it that keeps you motivated? Will there ever be a life without touring for Bryan Adams?  
Bryan:  As long as people are interested in the show, I'll continue to perform. Motivation is easy, time to do everything is the difficult bit. There's just not enough time!
4) Most of your tracks comprise of positive lyrics based on love, in general, if you see the greatest hits of all time have all had negativity in their lyrics. You have successfully managed to prove the general perception wrong that negativity sells. Tracks like Everything I Do, I do it for you & Straight From The Heart are a couple of examples that somehow still intensifies love stories for many people across the globe, was that something you always tried to achieve as an artist?
Bryan:   I try and design songs that are going to be easy to perform live. I try and create songs that I'd like to hear if I was listening to the radio. I try and create music which pleases me and I just happen to enjoy making records. I think it boils down to one thing. If you're going to make records make sure that you put the best songs that you can on them.
5) Stage fright is something every artist initially experiences. Did you experience it too? What did you do to tackle it and how much time did it take for you to successfully counter it?
Bryan: I think I handled everything OK. I had a laugh. It was great. I had really good people with me and we had a lot of fun — it was an incredibly good time. The pressure was on to deliver, but I think the key to all of it is being able to retain your sense of humor. If you laugh with it and at it, you'll make it through
6) You also take an interest in photography & you also run your own charity trying to focus on educating children worldwide. How do you manage to divert your time apart from either making music or touring or maybe even spending time with your family?
Bryan: It's kind of like being Bruce Wayne and Batman, but without the physical combat. You need a balance of things in order to continue to be creative, so I divide my time as equally as I can between all the things I love to do.
7) Your last show in India was over 7 years ago, do you recall anything from your last visit as an artist here? How did the Indian fans treat you?
Bryan: It's always an adventure when I've been here. On my first trip to India, there were no cars to collect us, so Keith my guitarist and I got in a taxi from the airport. The suspension was broken in the car so we leaned over the seat to watch where we were going. Along the way we had to stop because an elephant had gone to sleep in the middle of the road. That story would not happen anywhere else in the world, welcome to India. It's always an adventure when I've been there.  This will be our fifth tour of India, I'm not sure many artists have done that from the West.
8) Your track 'Summer Of 69' has been a global sensation and is one of the rare rock songs almost all Indians would know the lyrics of. We would love to know what the track is about, is it about a band you could've formed that didn't go through, is it about a love story or was it just a fantasy considering you were just 10 years old during the Summer of 69? 
Bryan:  69 is a metaphor for a song rich in regret and the feelings of losing innocence. At some point, we all have to deal with the broken promise of youth and what that means, 69 addresses those feelings. Originally it was going to be called "the best days of my life" but the alliteration and double entendre of the words 'summer of 69' seemed to sum up the song better.
9) In your opinion what has been the highlight of your highly respected and decorated career?
Bryan:  I think my ethic today is probably as strong as ever. I don't think that has really changed. I got into this for one reason and that was because I love singing, and that hasn't changed. There's a great sense of achievement to be able to make music and write music, produce music and perform it, and that hasn't changed. The world has opened up immensely since I started playing 40 years ago.
10) What is the secret behind the longevity of your career? Any advice you would give to the young artists on how they could do what they like to do and have the motivation to carry on for decades?
 Bryan: Get into music because you love music, not to become famous. If your dream is fame, you have set yourself up to be disappointed.
11) What could we expect next from you? Any upcoming projects/tracks you would like to share with our readers?
Bryan: I have an album coming up in 2019.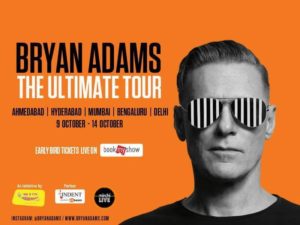 Get ready as the Canadian legend hits the Indian shores for a massive 5 city tour!
The week-long India leg of the tour will bring Adams all over the sub-continent. Here's the tour schedule:
• 9th October 2018 @Ahmedabad @Sardar Patel Stadium
• 11th October 2018 @Hyderabad @Hitex City
• 12th October 2018 @Mumbai @Jio Gardens
• 13th October 2018 @Bengaluru @Ozone Urbana
•14th October 2018 @New Delhi @Leisure Valley Open Ground
You can buy tickets to the Bryan Adams: Ultimate India Tour by clicking HERE.