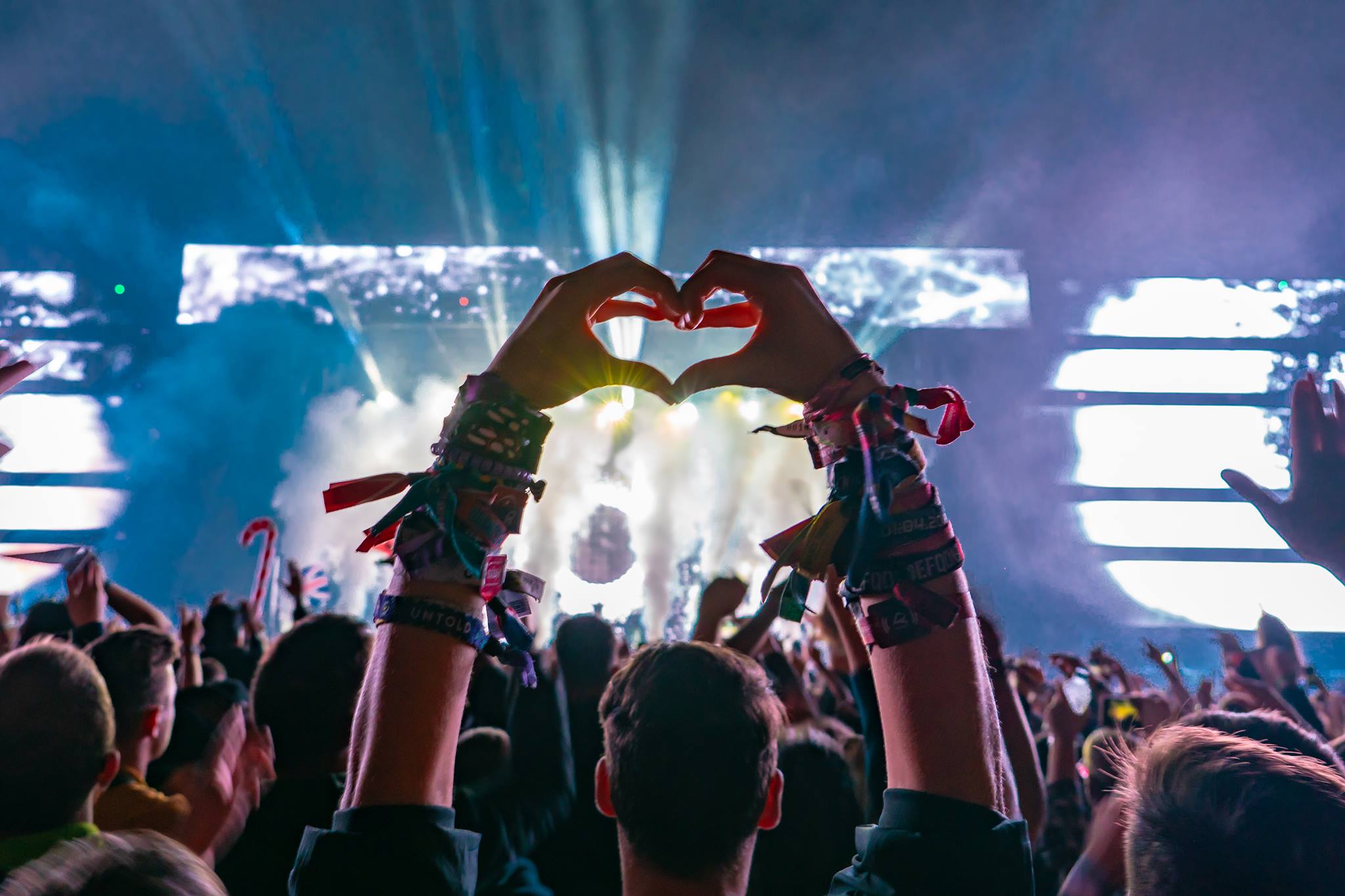 If you're a dance music fanatic then you will also have a dream of embarking on a journey of attending various dance music festivals across the globe. But sometimes due to our daily routines, jobs or any other reasons we either attend music festivals which are in our country or which we can afford to attend. But there are some passionate people in the world who have dedicated their lives to electronic music and exploring various festivals across the world, one such person who did an incredible feat of attending 52 Festivals in a span of 52 weeks in different countries she is none other than our colleague and our good friend Katarina Cvetko. It is so amazing to ditch the traditional way of living your life, following the norms and breaking the barriers to dedicate your life to EDM. Yes she is the same girl whose picture of both hands filled with bands from different festivals which went viral across various EDM centred social media pages.
Check out the talk we did with Katarina:
1. When did you decide to do 52 festivals in 52 weeks?
Ever since I was 12 years old, I knew I wanted to travel the world and go to all the biggest music festivals. When Wildstylez released the song 'Year Of Summer' during my final year of high school, I decided I wanted to have an actual year of summer once I graduated university and just travel to music festivals every single weekend for a whole year. I was travelling through Europe last summer doing my annual festival trip when I found out that I only had one semester left until I could graduate so I started telling everyone as a joke that I was going to do 52 festivals next year. When I got home, I couldn't stop thinking about it and realised I had no real plan of what to do with my life after I graduated so I decided to try and bring this crazy dream to life. It took about 3 months of planning and creating the whole project and once I shared it online at the end of October, there was no turning back.
2. Do you find yourself more matured, People say travelling gives you an amazing personality, is it same for music festivals too?
Yes definitely. I think with travelling to music festivals, you get a better understanding of each culture and how they celebrate and it's really cool to actually be there and have that first hand experience. I've always loved how music festivals provide such an inclusive environment so it's awesome to travel to so many different places and pick up a bit of the language and all the festival chants along the way and get the true local experience.
3. How did this all happen, how did you supported yourself for this nearly impossible mission? How did you manage travelling around the world?
Haha honestly I have no idea. Once I announced The Year Of Summer, I cancelled all of my international trips for the rest of the year and worked every single day and night until Christmas. I had a pretty good paying job and worked a lot of overtime so by the time I left, I already had a lot of money saved up. The first couple of months, I was running completely off my savings and I had a few sources of income online that I've grown over the last few years. I started writing and taking photos for different media outlets so a lot of the festival tickets were covered and I picked up some online freelance work as well. I think one big misconception about what I did was that people think I was living this rich, glamorous life, but the reality is, I spent a lot of nights sleeping at airports or on planes or buses to save money. I also travel with only a carry on so that helps me save a lot of money when flying and also limits what I buy because I don't have space for it. I've been doing big festival trips since 2015 so I'm pretty experienced when it comes to planning trips, saving money and finding the best deals. Overall, the whole year wasn't as expensive as everyone thinks it would be. It's not about how much money you have; it's how you choose to use it.
4. According to you, which are the current top 10 festivals in the world?
There are a lot of festivals I've done in previous years that would definitely make the top 10 but if I'm ranking them based on the ones I did this year, this would be my top 10:
1. Defqon.1 (NETHERLANDS)
2. Tomorrowland (BELGIUM)
3. Airbeat One (GERMANY)
4. EDC Las Vegas (USA)
5. Electric Love (AUSTRIA)
6. World Club Dome Winter (GERMANY)
7. Untold (ROMANIA)
8. WiSH Outdoor Mexico (MEXICO)
9. Midnight Mafia (AUSTRALIA)
10. Rebirth Festival (NETHERLANDS)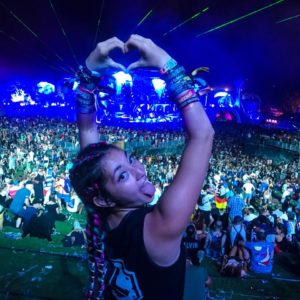 5. Which was the best & worst festival for you?
My favorite was definitely Defqon.1 in The Netherlands. That festival has been at the top of my bucket list since I was 12 years old and I was lucky enough to go back for my third year in a row. I love everything about that festival! Q-Dance is an amazing organization and everything from the music to the vibes and the production is just perfect! They introduced so many new things this year like the arcade and gym at the campgrounds and a tonne of new activities and shows all weekend long. Defqon.1 is one of those festivals where they just think of everything to make sure you get your money's worth. The worst one for me was probably Shaky Beats in Atlanta, Georgia (USA). There was just nothing special about it that couldn't be found at any other festival. They advertised 4 stages but they only had two running at a time because they were so close together so there were just hour-long gaps in between sets. The location was really dusty which could have been easily fixed but they chose not to address the issue. Security was terrible, the vibes were not welcoming at all and there was zero effort put into the stage designs and production.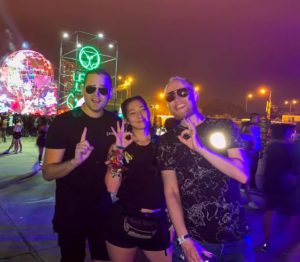 6. Which country/crowd party the best?
If I had to pick one, it would probably be Mexico. I spent a month in Mexico at the start of the year and travelled back there two more times after that. All four festivals had incredible vibes and the locals just know how to party! I remember just staring at the main stage at WiSH Outdoor Mexico when suddenly I saw people randomly flying up in front of me. The locals do this thing where they each grab a limb and throw their friend in the air and catch them. It's the weirdest thing ever to just see people randomly being launched into the air in the middle of a set! The energy at Mexican festivals is absolutely insane as well; the fans are just so dedicated and happy to be there.
7. The most played track of the year?
I think in America, I definitely heard The Drop by Gammer multiple times a day at every festival I went to. Once I went over to Europe, it was definitely One Kiss by Dua Lipa and Calvin Harris. My friends and I have an ongoing joke about that song every single time we hear it because it's played so often at all the mainstream festivals. In the hardstyle world, it was definitely Ran-D's Zombie and I love how it was played so many times on the main stage as well.
8. As you have travelled so much what are the top 5 party hostels around the world that you will recommend?
I don't actually party too much outside of festivals. I think three days a week is enough and I usually spend the rest of the time recovering and/or sitting in Starbucks working from my laptop. Meininger in Salzburg, Austria is one I stay in every year for Electric Love and it always has an amazing vibe and is filled with people going to the festival as well so it's always a great time. A&O in Dusseldorf, Germany is another one that's always filled with people going to festivals and has a huge common area where you can meet other people.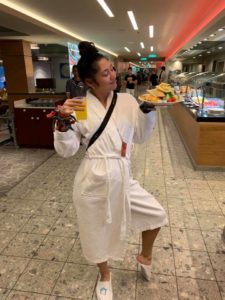 9. Plans for 2019?
I'm working on a couple of projects that I'll be revealing at the start of the year but my overall plan is to just keep travelling and going to festivals every single weekend. This year was all about hitting the end goal of 52 festivals so I felt like I was always on a time crunch. Next year I definitely want to travel more and explore new cities and countries because I spent a lot of time going back to the same places over and over again just for the festivals. I also really want to start bringing more people with me on my travels and teaching them what I do so they can learn how to do it to.
10. How has your family taken this, are they super proud of you?
Haha I didn't actually tell my family I was doing this. I'm not really close with them, which is why it was so easy for me to just leave for a year. The whole idea about The Year Of Summer was to finally stop living the way my family expected me to and start doing what I wanted to do. I knew once I graduated university, I was done following their traditional path and wanted to go on a different one so I kinda just went for it.
11. Your top 5 sets from the festival this year? Any special mentions
1. Da Tweekaz at EDC Las Vegas – This was easily one of the best sets I've ever seen at any festival ever. I've actually seen them 22 times this year and this one was my favourite. The live performance from Haliene was just so special, the vibes were incredible and they closed out the set during the nightly fireworks show so the entire sky was filled with fireworks during their last song. It was one of the most magical moments from the entire year.
2. Wildstylez at Tomorrowland Weekend 2 – Wildstylez is a no-brainer and I get goosebumps every time I hear Year Of Summer. I remember getting to the Coone & The Gang Stage first thing that morning and camped out on the rail the entire day to see all my favourite artists. I've never partied so hard in my life and I ended up being all over the live stream. I even ended up being the thumbnail for his set on YouTube!
3. Steve Angello at Daydream Festival Spain – This was one of the last times I saw his old set before he started playing all of his new music and it was such a special vibe. He has a huge fan base in Spain so all of us were gathered at the very front singing along to every single song and it was such an awesome and uniting moment.
4. Timmy Trumpet at Airbeat One Festival – His energy on stage was just insane and I loved the way he brought so much psytrance and hardstyle to the main stage! I haven't seen him too many times this year so every single song he played was a surprise to me and I loved that.
5. Armin van Buuren at Untold – The main reason I wanted to go to Untold was because I saw him play his 5 hour marathon set on the live stream last year so it was so surreal to watch him play for 7 hours this year!
Katarina Cvetko is a part of our global team which explores different genres, artists, festivals across the globe and share their experience with the world. We wish Katarina very good luck for her upcoming endeavours!
52 RavesDaydream Festival SpainedcFestivalsmexicoThe Year Of SummerTomorrowlandWish Outdoor
Chetan Dahake