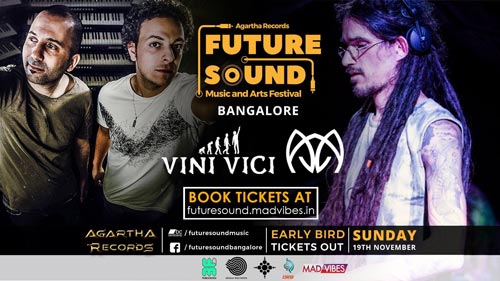 Vini Vici & AJJA, two legendary Psy-Trance artists are headlining the cradle of dance music in India, it is certainly and surely a dream come true. Just sometime ago Future Sound Bangalore brought acts such as Ace Ventura, Liquid Soul, Zen Mechanics to the Indian Silicon Valley.
Even all their last editions were really successful and we had small chat session with Liquid Soul when he came to headline Future Sound Festival in Bangalore in August and even he was really impressed with the festival, the promotors, ambience, sound and what not, read our exclusive interview here.
Now, they are back with yet another banging new edition, this time the Bengaluru based festival will be headlined by Vini Vici & Ajja and to mention this performance is a rare one because you don't catch Vini Vici and AJJA together more often.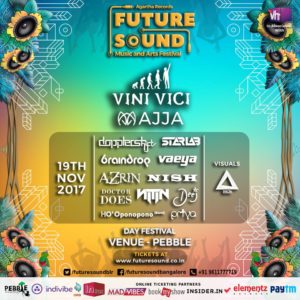 And to just add to this, their early birds got sold out in just 6 hours, so its pretty safe to say they have a reputation to maintain and they are maintaining it properly by giving good party experience to the people.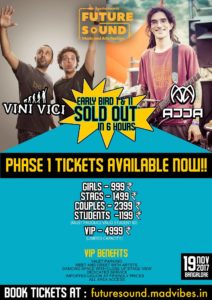 And this will be Future Sound Music Festival's round four or we should say 4th edition to kick up some serious dance floor dust this November with local talents such as Nitin, Doppler Shift, Nish, Braindrop, Vaeya and Starlab are just to name a few.
Future Sound – Summer music Festival 2017

another Glimpse into Future sound – Summer Music Festival 2017dont forget to download Future Sound Promo Release – 2017 Feat some of the best progressive Artists from al over ,for FREE ! click the link : https://futuresoundmusic.bandcamp.com/album/future-sound-vol-1-2ENJOY THE VIBE ! #agartharecords #Futuresound

Posted by Future Sound Bangalore on Tuesday, 20 June 2017
So people, mark the date 19th of November, as it'll be surely an unforgettable event. Gates to the Progressive and Psy Trance paradise open at 12 noon and the event promises to deliver a time full of euphoria and moments worth to remember. This edition of Future Sound Music & Arts Festival is a collaboration of some of the most legendary names in the music industry.
Venue : Pebble , Bangalore
Date : 19 November, 2017
Chetan Dahake