Bonjour India festival is one of the biggest and the most ambitious initiatives between France and India. With an aim to strengthen the Indo-French ties, Bonjour India will serve as a platform for innovation and creativity. As a part of their rock tour, this year's edition will see Colt Silvers and Last Train for the first time in India with a massive 11 city tour, spanning across this month and December. It is curated and created by the French Institute in India, in association with Alliance Francaise.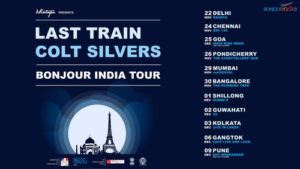 This tour is being presented by Mumbai based music management company, Mixtape. Mixtape has been actively working with international talent who want to develop a market for themselves in the country and has organized tours for notable artists including Tinariwen (Mali),Telefon Tel Aviv (LA), Clap! Clap! (IT), Micronaut (Germany), Bjorn Torske (Norway), Bill Brewster (UK), DubiozaKollektiv (Bosnia) to name a few.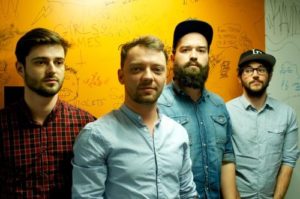 Colt Silvers comprises of vocalist Tristan, bass player Nicolas, guitarist Florian and drummer Julien. Termed as the French Alt J by the popular magazine Les Inrockuptibles, the band produces intense indie electro rock which is inspired by pop culture. Colt Silvers started gaining popularity beyond France within a year of their inception with the debut release 'Night of the Living Robots' in 2009. With their sophomore release Red Panda and EP – Gold Trees Gold in the following year, the band toured extensively performing countless shows across the world. Their latest album Swords, co-produced and mixed by the Grammy nominated Fab Dupont, filled with danceable and feel-good tracks received rave reviews from popular French Magazines and critics. Their debut tour in India will also see them perform at this year's NH7 Weekender, Pune.
Colt Silvers, Julien states "We are very excited and honoured to be performing in India for the first time. We are really stoked about going on a 10 city India tour and experiencing the culture and tradition of this vast country. As a precautionary measure we have all been vaccinated and can't wait to taste the traditional food of India. We are good to go! We are currently promoting our latest album SWORDS. In comparison to the album, the sound we create on stage is a hundred times more intense. We are ready to hit the road!
Last Train is a story of 4 childhood friends – vocalist Jean-Noel Scherrer, guitarist Julien Peultier, Drummer Antoine Baschung and bass player Timothee Gerard, who have been making music together for over a decade. Their first two EPs 'The Holy Family' and 'Fragile' received critical acclaim, launching their music career. The band has performed to sold-out audiences, opening for renowned musicians like Muse and Rival Sons. In 2016, Last Train won the biggest French festival for upcoming bands, Le Printemps de Bourges, and toured across Europe with a whopping 40 shows in two months. Earlier this year, the band recently released a full length album 'Weathering' on their own label, 'Cold Fame Records'.
Last Train –"It is an amazing thing to come to India. For everyone in the band it is the very first time in this country.We've been touring in Asia for the last 2 years, in Japan, Vietnam and China, but India is still another territory, totally different!!It is such a big country, we heard it could be totally different atmospheres from a region to another. We are super excited to be touring 9 cities in India. It's incredible! We are looking forward to discovering the different cultures in India. We will be performing in big cities we already know (only by name), like Mumbai, Pondicherry, New Delhi, and also other cities which we don't know anything about, like Guwahati, Shillong, Gangtok ! It's super enthralling!We are impressed, that a French rock band like us, can have the opportunity to go there. Of course we are excited about the Indian food, even if we are a bit scared. It is not really in our French culture, eating spicy things. But we will try! Anything new can always be a good experience. And it's like, that we can grow up, and keep on playing music. We are looking forward to meeting new people and reaching out to new audience, doesn't matter what their age is, if if they are musicians or not, or if they are boys or girls. It's music! I'ts supposed to bring people together. In France when you go to a LAST TRAIN show, you can see young teenagers, old rockers, kids with their parents, music passionate and beginners. We are also looking forward to hearing and listening to Indian music, and if possible Indian traditional music. One member of LAST TRAIN used to play guitar and bass guitar with a sitar player. If we have time during this tour to see a traditional Indian music show, that would be awesome !This is such a good experience, we know how lucky we are, an international band, to discover India this way."
Interestingly, we got a sneak peek of their F&B rider.It looks absolutely fun!
· Local specialties to be included
· Herbal infusion teas and fresh fruit juices
· Plenty of cooled mineral water in vanity and uncooled bottles on stage.
· Mixed sodas and good quality beer and wine
· A decent nutritious hot meal to be available for band 2 hours prior to the performance. The meals will comprise of 1 appetizer, 1 hot main course, 1 dessert. Two vegan and no dairy meals to be ensured
· Fresh fruits, like apples, bananas, oranges
· Some sugar rich snacks, preferably candy bars like snickers, mars, lion, etc.
Mixtape will be also giving them a flavor of India with a visit to India Gate, Old Delhi, Qutub Minar and dinner at Bhavan in Chanakyapuri
The tour is all set to kick off from tomorrow, here's the complete schedule of their tour across 10 cities of the nation.
· 22nd November, 2017: Raasta, New Delhi
· 24th November, 2017: Bay 146, Chennai
· 25th November,2017; Indian Bike Week, Goa
· 26th November, 2017: The Storytellers' Bar, Pondicherry
· 29th November, 2017: antiSOCIAL, Mumbai
· 30th November, 2017: The Humming Tree, Bangalore
· 01st December, 2017: Cloud 9, Shillong
· 02nd December, 2017: O2, Guwahati
· 03rd December, 2017: Live In Lakes, Kolkata
· 06th December, 2017: Café Live AndLoud, Gangtok
· 09th December, 2017: NH7 Weekender, Pune (Only Colt Silvers)
Make sure you follow them on the socials:
Colt Silvers
www.facebook.com/coltsilversband
www. soundcloud.com/coltsilversband
Last Train
www.facebook.com/lasttrainofficial
Chetan Dahake