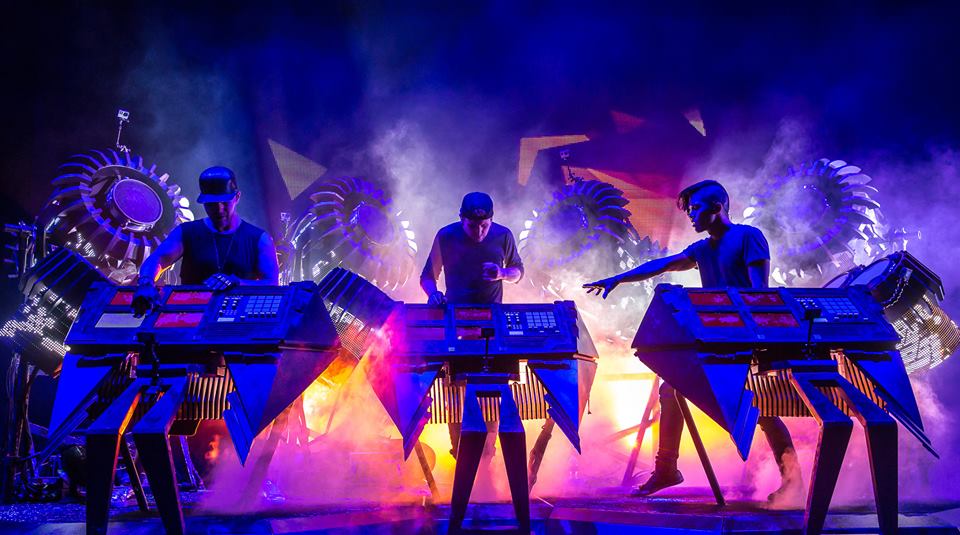 The electronic trio's recent album 'See Without Eyes' is a testament to the group's ability to generate astonishing music that has the capacity to shift the face of music culture. The Glitch Mob focus on a futuristic theme over the duration of the album, telling a story of self-discovery which is so brilliantly conveyed through their impeccable productions and mesmerizing visuals.
Now, they have released an absolute divine visual treat which doesn't fail to take us on a voyage! This visual  album is jam-packed with psychedelic graphics, designed to take the viewer  on a fully immersive journey.
Stream the visual album here:
The creative mind behind the mesmerizing array of visual stimuli is none other than famed production company, Strangeloop Studios. LA-based A/V artist Strangeloop has worked side by side with some of the biggest names in the industry such as Zeds Dead, Bonobo & m0re.
Well the treat is not just the visual album! The Glitch Mob have released a preview video for their revamped live setup, Blade 2.0, which they're about to take on tour all across North America.
Have a look at the jaw dropping Blade 2.0 stage setup here;
The tour is kicking off in Edmonton, CA this Friday May 11th, and will run until the end of the summer. 
Tour dates:
5.11.18 – Union Hall – Edmonton, AB
5.12.18 – Marquee Beer Market & Stage – Calgary, AB
5.14.18 – Commodore Ballroom – Vancouver, BC
5.15.18 – Knitting Factory – Spokane, WA
5.16.18 – The Wilma – Missoula, MT
5.18.18 – Showbox SoDo – Seattle, WA
5.19.18 – Showbox SoDo – Seattle, WA
5.20.18 – Roseland Theater – Portland, OR
5.23.18 – Revolution Center – Garden City, ID
5.24.18 – Cargo – Reno, NV
5.25.18 – Lightning in a Bottle – Bradley, CA
5.26.18 – Observatory North Park – San Diego, CA
5.26.18 – Spin Nightclub [DJ Set] – San Diego, CA
5.27.18 – Brooklyn Bowl – Las Vegas, NV
5.31.18 – House of Blues – Boston, MA
6.01.18 – Governor's Ball – New York, NY
6.01.18 – Schimanski [DJ Set] – Brooklyn, NY
6.02.18 – 930 Club – Washington, DC
6.03.18 – 930 Club – Washington, DC
6.06.18 – The Fillmore – Philadelphia, PA
6.07.18 – The National – Richmond, VA
6.09.18 – Bonnaroo – Manchester, TN
6.10.18 – The Plaza Live – Orlando, FL
6.13.18 – The Joy Theater – New Orleans, LA
6.14.18 – White Oak Music Hall – Houston, TX
6.15.18 – Emo's – Austin, TX
6.16.18 – House of Blues – Dallas, TX
6.19.18 – Egyptian Room – Indianapolis, IN
6.20.18 – Express Live! – Columbus, OH
6.21.18 – Stage AE – Pittsburgh, PA
6.21.18 – 6.24.18 – Electric Forest (Weekend 1) – Rothbury, MI
6.26.18 – CrossroadsKC – Kansas City, MO
6.28.18 – Red Rocks Amphitheatre – Morrison, CO
6.28.18 – 7.01.18 – Electric Forest (Weekend 2) – Rothbury, MI
8.02.18 – 8.06.18 – Untold Festival – Cluj-Napoca, Romania
8.10.18 – 8.13.18 – Shambhala – Salmo, BC
10.10.18 – The Sylvee – Madison, WI
For tickets: theglitchmob.com
Catch The Glitch Mob at at Shambhala Music Festival 2018 alongside a number of stars. For more details & tickets; http://www.shambalafestival.org
Chetan Dahake