India has been deprived of good gigs for the past few months. Seems like Sunburn Festival has got the fans exactly what they needed. Later this month, Dutch House music sensation is set to do a 3 city tour. The world number 11 DJ is set to sweep us off our feet. His last performance in India was at the Timeout 72 Festival in Goa.
Sunburn Festival will do a 'Season Closing Party' with Don Diablo on the 22nd-24th June.
The schedule for his performances is :-
22.06: Mumbai
23.06: Hyderabad
24.06: Indore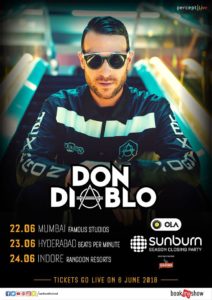 Stay tuned to our page for more info on the Tour.
Purav Vyas