Kristian Nairn has gained stardom with his portrayal of Hodor in Game of Thrones. What we now know is he also takes active interest in the Dance music community. He has been a DJ/Producer for quite a long time now.
Namaste India 🇮🇳 Really looking forward to playing in this beautiful country for the first time at @SunburnFestival in October 👊🏻

Get Tickets: https://t.co/c49DiCHH5d pic.twitter.com/ilmQtsVWbk

— Kristian Nairn (@KristianNairn) September 21, 2018
Sunburn Festival is all set to bring down the Game Of Thrones star for the very first time to your city! So all the Game Of Thrones fans out their make sure you don't miss the legend bringing his magic live to India for the first time, its gonna be nuts! We had a chance to get to know him a little better before his performance.
Here are a few excerpts from our interview:
1) This will be your first time in India as a DJ, how excited are you for this? How different is it from your previous visit which was to promote the legendary 'Game of Thrones'?
Kristian: I am extremely excited!  The last time I was in India for Comic-Con, the most popular question I was asked was "when are you coming to do a DJ show here?"  So it's great to be coming, especially as part of such an amazing show and line-up in Mumbai and Delhi by Sunburn.
2) Who inspired you to be a DJ?
 Kristian: It wasn't so much a "who."  I spent a lot of time in clubs growing up.. always watching and appreciating what the DJ was doing.  It was a natural progression for me to become a DJ myself.  Particularly with my lifelong background in music…
3) Your role as "Hodor" has got you all the stardom but do you like to portray yourself more as an actor or a DJ? Also how hard is it to switch between these roles?
Kristian: Whether I am working in acting or DJing, I love to perform.  I love both jobs equally and they both give me such different things.  I don't think its hard at all…  when I act or when I DJ, I lose myself in what I am doing.  I get to feel like I am channeling my energy into something greater than myself. It's a huge privilege. 
 4) Your 'Rave of Thrones' tour was a huge success. Can we expect you to do more tours in the distant future?
Kristian: I'm always going to be on the move in some shape or form.  As for the Future of Rave of Thrones, I really don't know.  I am sure I will do more at some point, but I have a lot of music I have been working very hard on for a LONG time, and I'm finally happy with it!  I can't wait to see how it's received when it's released.
5) What's the best crowd you have played for so far? Was it BlizzCon 2016? Can you tell us something about that gig?
Kristian: I've played so many amazing gigs and it's very hard to pinpoint one or two… However, Blizzcon 2016 definitely stands out.  I love playing to a crowd who might not necessarily love dance/house music as a rule.  I love to see them be surprised to be the music… and that was a big part of that gig.  They really got into it, and it was wonderful.  Its also a huge joy for me to be there with all of my Warcraft Brothers and Sisters.
6) The game of thrones soundtrack has been remixed by industry legends like Armin Van Buuren and KSHMR. Have you thought of giving it a remix of your own?
Kristian: I had been playing a bootleg version I created a few years ago at the Rave of Thrones show, but sometimes, it doesn't really fit in my set.. so I had always wanted to create a version I really loved.  So, yes..  wait and see …
7) What can we expect from your set in India? Any new track you found time to work on?
Kristian:Yes indeed, Because they are such special shows for me, Above and Beyond have been part of my dance music life for longer than I can remember, and because India is a special place; I have a number of my new tracks and remixes that I am going to be playing for the very first time.  What better way to play them!
Catch Kristian Nairn Live at the Sunburn City Festival. Following are the dates for the Festival and the cities that will host the festival: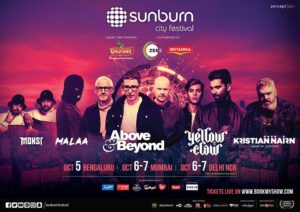 October 6,7: Mumbai
October 6,7: Delhi NCR
You can grab your tickets by clicking HERE